Responsive Web Design Plan
Responsive Web Design (also referred to as Adaptive Web Design or abbreviated to RWD) is a very popular modern wed design approach in which a site is designed to provide an optimal viewing experience across a wide range of devices (from desktop computer monitors to mobile phones).
What differences between Responsive Web Design and traditional HTML web design?
Traditional HTML web design is constructed for desktop computer monitors in internet age and hence unable to provide best viewing experience for mobile devices, while responsive web design is quite different. It is specially designed to be mobile friendly. This technology and design concept allows web designers building a website to fit for different devices such as desktop computers, tablet PCs and mobile phones.
Why responsive web design (or adaptive web design)?
Adaptive for different devices (e.g. desktop computers, tablet PCs and mobile phones)

Cost-saving in web design and development. It needs not to invest an extra mobile web design.

Better web usability and user's experience due to elimination of large nos of flash and graphics and more consideration on mobile users

Suitable for new website (including HTML and CMS web design) and website redesign

Of course, there are some disadvantages for responsive web design. For example, incompatibilty for the old browsers (which does not support HTML5, e,g IE7, etc), longer time in web design, development and testing, not as good as the mobile web design in visual display and features in some mobile devices, etc. Moreover, it may not suitable for some kinds of websites and business (e.g. portal sites with massive contents, etc.).

Responsive Web Design Services (Basic Plan - HKD1,800) includes:
A static banner (or a text animated banner)

5 HTML web pages (A4 size, one language) (search engine friendly web structure)

Website submission to major search engines such as Yahoo, Google, etc.

Upto 2 revisions (during web design and production process)

Website backup CD for retention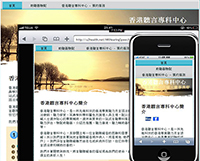 Optional:
International domain registration: dot com/ net/ org/ biz - HKD120/year

HK domain registration: dot com.hk - HKD200/year

Dot HK domain registration - HKD250/year

Remarks
:
The exact amount of investment depends on the Responsive web design requirements, special features, functions and number of web pages to be created. The quote for the web site design is subject to our final confirmation.
The text content should be provided in the Ms word format and the pictures in the jpg format.
Please instantly fill in the web design requirement analysis form to us for further assistance or quote. Act Now.
Web Design Analysis Form