Mobile Web Design Plan
What is Mobile Web Design?
The mobile site (or mobile website) is the mobile-friendly internet website that can be accessible via mobile devices. Since more and more busy business persons and consumers are on their mobile phones to connect internet and find information, it is important to include a mobile version of your website.

If you have an old website and do not intend to launch a website redesign to develop an new website (with responsive web design to fit different mobile devices), you may consider our mobile web design package for an inexpensive mobile web presence. This mobile web design plan only provides simple mobile web version with lesser information and pictures for faster loading in different models of smart and normal phones. For more complicated and powerful features, please consider the mobile apps developement.


What our mobile web design plan includes?
The Mobile Web Design Service (Basic Plan - HKD1,500) includes:

A small static banner
5-10 simple and small mobile web pages(one language)
Free standard Email Enquiry form
Click to call function
Google map supported
Social media Integration (if any social media site available)
Website backup CD for retention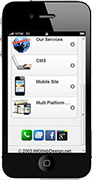 The mobile site will be hosted on your present web hosting space and the url will be in the form of https://www.domain.com/m or https://www.m.domain.com (if the sub-domain is allowed by your hosting company).

If you prefer to get an extra domain (e.g. .mobi or .com, etc.) for your mobile site, we may arrange such mobile web hosting service and domain for your mobile web design at extra cost.


Optional:
1. Extra domain registration for your mobile site
dot mobi - HKD120/year
dot com/net/org/biz - HKD120/year
dot com.hk - HKD200/year
dot hk - HKD250/year
2. Basic mobile web hosting (w/5 email A/Cs): HKD28/month x 12
Remarks:
The exact amount of investment depends on your mobile web design requirements, special features, functions and number of web pages to be created. The quote for the mobile web design is subject to our final confirmation.
Please fill in the web design requirement analysis form to us for further assistance. Our Web design experts and support teams will try our best to help you. Act Now.